In March 2017, two months before his appointment as Special Counsel, Robert Mueller received $24,000 (~ ¥130,000) and probably a promise of future financial opportunities from a firm owned by a top official of the Chinese government and the Communist Party of China. In exchange, he accepted, articulated, and publicly committed himself to the DNC conspiracy theory that "Russia had hacked the democracy". Russia has hacked neither democracy nor the Democrats (despite them being near opposites). The DNC had an incompetent information systems team and an unprotected network that could have been hacked by anybody. For eight months the DNC fought FBI attempts to help, while possibly being suspicious of the FBI because of Hillary's bathroom server. Persons who published the DNC's dirty laundry or gave it to WikiLeaks are likely not connected to Russia at all and might be Americans. We don't know their names because the Democratic Party made up the narrative that Putin ordered the DNC hacking and leaking of documents to aid Trump. Obama administration sent the FBI, CIA, DHS, and ODNI to confirm this narrative, rather than to investigate who had accessed the DNC voter's database, believed to contain very detailed personal profiles of almost all adult Americans. The conspiracy theory of a Trump-Russia collusion was built on top of this narrative.
The firm that paid Mueller his ¥130k is the International Data Group (IDG), a subsidiary of China Oceanwide Holdings Group. IDG owns many information technology publications and venues, including security-focused CIO.com and csoonline.com. China Oceanwide announced acquisition of the IDG on January 19, 2017 – the last day of the Obama administration. A closer look at the China Oceanwide structure and operation of the IDG suggests that the IDG was acquired by China to serve as an espionage and influence vehicle. Note that China has an annual surplus of $375B in the trade with the US. Trump's policy to reduce or even eliminate this deficit makes him an exceptionally inconvenient US president for China.
But in exchange for ¥130k and a promise or expectation of future business with China, former FBI Director Robert Mueller publicly announced his support for the anti-Trump theory of "Russian hacking" and made the key decision for his future investigation as Special Counsel.  It is not known whether this deal with China led Mueller to seek the appointment as Special Counsel, but Mueller also lied about this transaction in his financial disclosure. When appointed Special Counsel tasked with investigation, Mueller didn't bother to even pretend he was investigating. It looks like the ¥130k have done the investigation for him. Mueller used the results of this "investigation" to launch an unprecedented prosecution of the elected President.
On March 7, 2017, and as part of the deal, Mueller delivered a 45-minute presentation titled The Growing Cyber Security Threat at a trade conference pompously named Security Executive Summit, hosted by IDG in partnership with CDW. Mueller was quoted as saying:
"What the Russians are doing is a huge threat," said Mueller, adding that such cyberthreats to democracy are, in a sense, "more devastating than terrorist attacks — the one-offs that you currently have in the United States." (Forbes, 2017-09-21)
"In terms of the top cybersecurity threats the U.S. government faces today, Mueller laid out five threat vectors: 1) Protecting democracy from Russian hackers and others that want to undercut democracy …" (FedTechMag)
Even the alleged Intelligence Community Assessment (cooked by John Brennan and James Clapper using the Steele dossier and oddly interpreting the DNC refusal to collaborate with the FBI on its suspected Russian hacking as the proof of Trump-Russia collusion) did not go that far. The ICA was announced on January 6, 2017 – and refuted within hours! Two days later, Fox News published a long article by former CIA analyst Fred Fleitz Was Friday's declassified report claiming Russian hacking of the 2016 election rigged?  In few weeks, Brennan's hostility towards Trump and the refutation of CrowdStrike allegations of "Russian hacking" of Ukrainian artillery finally exposed ICA as a hoax. CrowdStrike was the DNC contractor that incorrectly attributed the DNC hacking to Russia in May-June and doubled down on this misattribution in December 2016. The MSM made huge efforts to keep the narrative going until Mueller breathed new life into it.
Details
The IDG/CDW conference has web presence on cio.com, a website of IDG Communications, Inc, a subsidiary of IDG. Mueller appears here: https://cdwevents.cio.com/ehome/cdw/speakers/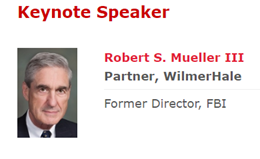 Under the law, Mueller had to file the OGE Form 278e within a month of the appointment. He requested and was given an extension of time. When he filed the form on 07/19/2017, two months after the appointment, he concealed this transaction. Instead of the International Data Group, Mueller named a small and unrelated consultancy IDG Enterprise, also located in MA. This is the copy of the entry:

At that time, his witch hunt was in full swing and hardly anybody was paying attention to his disclosure.
IDG owner China Oceanwide Holdings Group is headed by Mr. Lu Zhiqiang, a high-level official of the government and Communist Party of China. Its website says (emphasis added):
"China Oceanwide Holdings Group was founded in 1985 by Mr. Lu Zhiqiang, the founder, legal representative, Communist Party secretary, chairman and president of the group.
…
Mr. Lu Zhiqiang is the founder, legal representative, Communist Party secretary, chairman of the Group, who also serves as a member of the standing committee of the 12th Chinese People's Political Consultative Conference, vice president of the China Chamber of Commerce, deputy chairman of the Oceanwide Foundation, deputy chairman of the China Foundation for Guangcai Program, vice chairman of the Chinese Art and Literature Foundation, and deputy chairman of China Minsheng Bank etc."
Mr. Lu Zhiqiang officially became the Chairman the Board of IDG on March 29, 2017.
Among all critics of the "Russian hacking" conspiracy theory, only the Veteran Intelligence Professionals for Sanity (VIPS) gained some attention from the MSM. That might be because their key argument – the calculated speed of data copying – is wrong. They made other inaccurate statements, too.
via Dealing with the Con in Consensus
October 11, 2018 at 02:33AM