By Paul Homewood
Michael Atherton is the latest gullible fool to fall for global warming propaganda, writing in The Times:
 https://www.thetimes.co.uk/article/forget-the-beast-from-the-east-cricket-has-own-battle-against-climate-change-6kj5c3b7x
The article is behind a paywall, but he has picked up on the report by the Climate Coalition a couple of weeks ago, which claimed that sports like cricket and golf would be hit hard by climate change. I covered that piece of nonsense here.
Atherton makes passing references to the drought in Cape Town, (which we know is simply a weather event that has happened in the past), and some rain in Bangladesh, (where apparently it has  never rained before).
But his main "proof" that climate change is ruining the game he loves, is Worcestershire's cricket ground at New Road.
He writes:
As the Beast from the East blows in and the nation shivers through the last, brutal slap of winter, at New Road, Worcester, they think it has not been a bad off-season for weather so far, all things considered.

The ground has suffered just one minor drenching, that's all, bringing a little ditchwater to the edge of the square, pitches unharmed, damage minimal. Nothing like the epic floods of four winters ago, or the summer of 2007, which ruined the second half of the season, had the groundstaff gathering the fixtures and fittings from three fields away and coaching staff snorkelling under water to retrieve items of kit.

Flooding is such a regular occurrence at Worcester that they can no longer afford flood insurance, in or out of season; they haven't had it for 20 years. So, at the end of every summer, Paul Phillips, the stadium manager who has seen the worst of the floods in his 27 years at the club, and his staff move what can be moved above the floodplain level, and then return things into position as spring arrives.

It's a lot of hours and hassle; time and energy that could be spent more productively, but what's the alternative? With the first competitive match at the ground scheduled for April 27, Phillips believes that they will make their move in the first or second week of March and then keep their fingers crossed for no more serious rain. Given that the higher ground outside the stadium has flooded three times since the turn of the millennium — before that, he thinks the last time was 1946 — nothing is certain any more.
So apparently winter floods are something new at Worcester?
All very strange, because across England as a whole, there is no trend at all to wetter winters: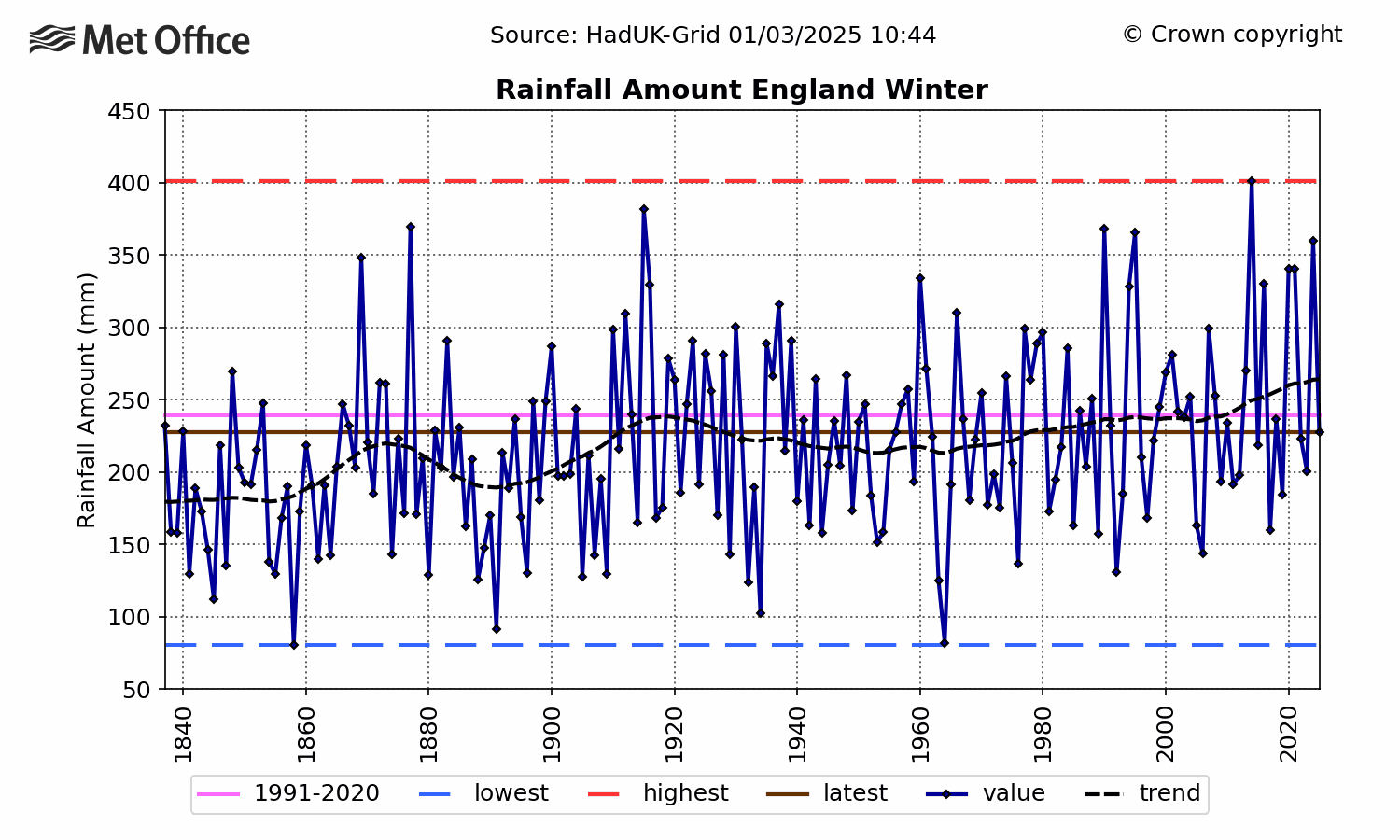 https://www.metoffice.gov.uk/climate/uk/summaries/actualmonthly
Even the "epic" rainfall of 2013/14 was only a few mm greater than 1914/15.
There has been nothing exceptional about any other winter since 1990.
Of course, this is the whole country, so maybe poor old Worcester has been hit hard?
Well, it seems not!
The nearest station to Worcester with long running data published by the Met Office is at Oxford, just 57 miles away.
The pattern of rainfall at Oxford is very similar to the national picture. The winter of 2013/14 does stand out, but again was only slightly wetter than 1914/15.
https://www.metoffice.gov.uk/pub/data/weather/uk/climate/stationdata/oxforddata.txt
As for wet summers?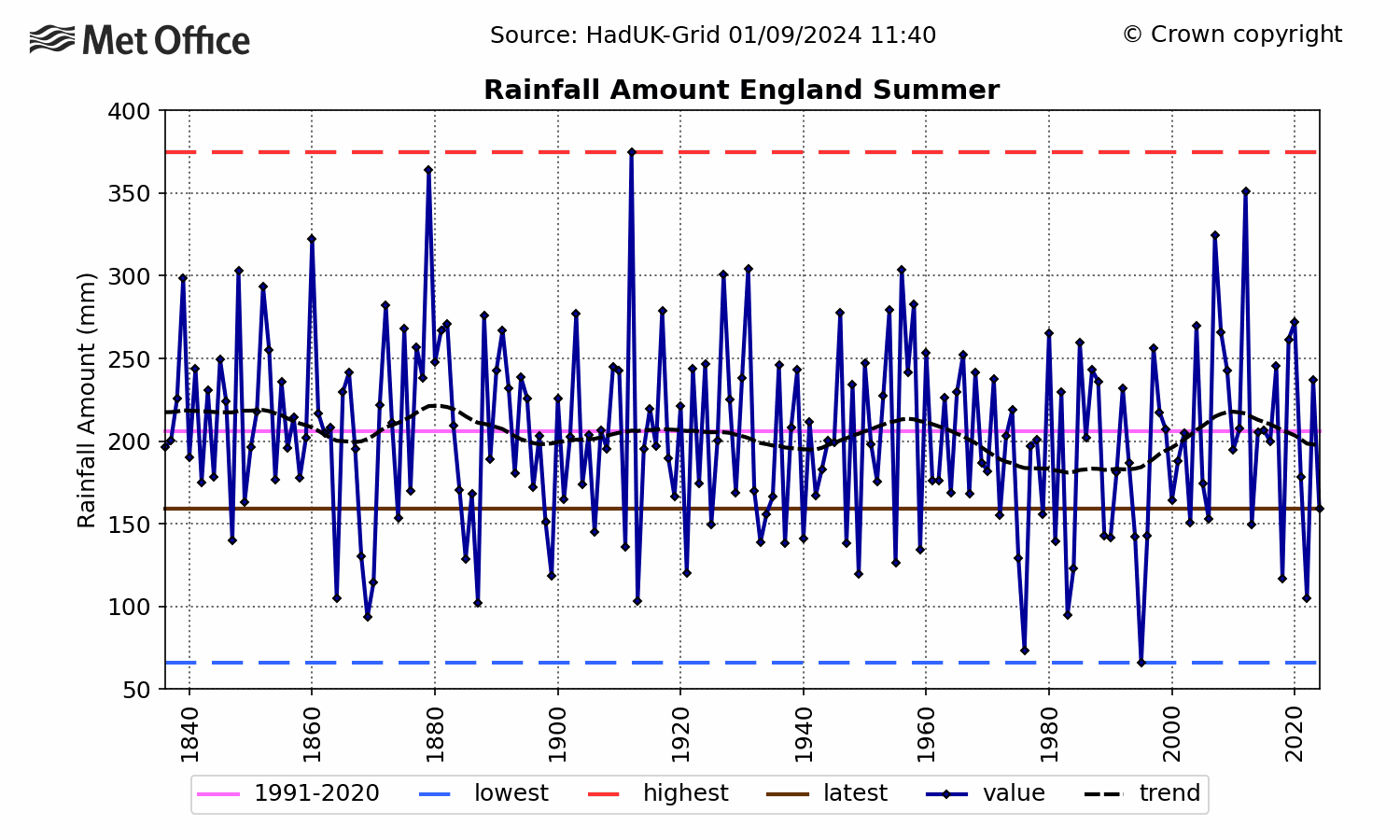 https://www.metoffice.gov.uk/climate/uk/summaries/actualmonthly
Atherton is an ex England captain, TV commentator and reporter. In other words, a pretty intelligent guy.
Which makes it even more extraordinary that he should fall for this BS.
via NOT A LOT OF PEOPLE KNOW THAT
March 1, 2018 at 08:25AM