By Paul Homewood
As we know, Britain recorded its hottest day on record in Cambridge last month. But does this mean that it was the hottest day for the country as a whole?
I now have the data from the Met Office, which proves that it was not as simple as that.
The BBC gave a clue as to what was happening, with the hottest of the weather over eastern and central areas of England: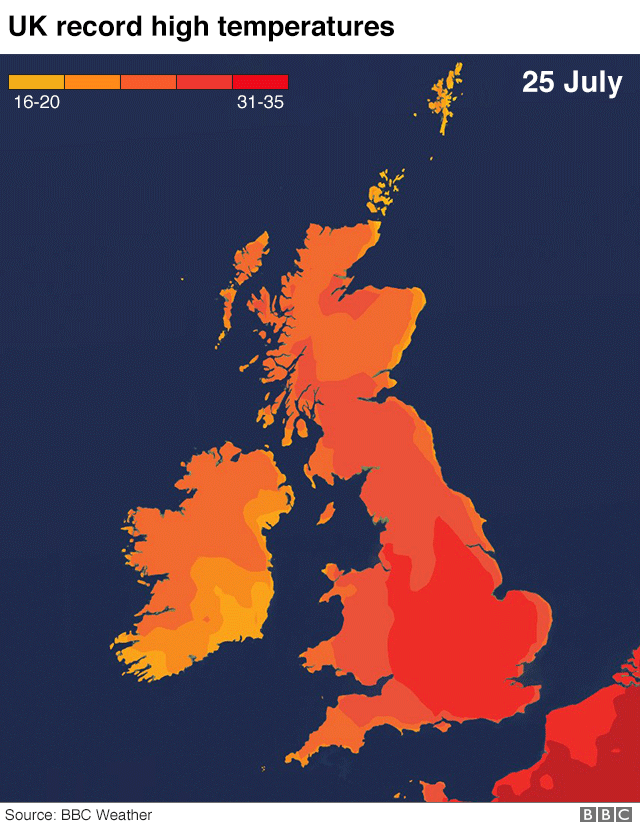 I asked the Met Office for a list of temperatures for that day, along with the record, for a range of stations giving a representative sample of the whole country.
Bold items are where new records were set last month:
| | | |
| --- | --- | --- |
| Station | Maximum Temperature (deg C) 25/07/2019 | Highest Temperature at Station |
| Oxford | 36.5 | 36.5 deg C on 25th July 2019 |
| Kew Gardens | 37.9 | 38.1 deg C on 10th August 2003 |
| Sutton Bonington | 36.0 | 36.0 deg C on 25th July 2019 |
| Ross on Wye | 32.4 | 35.0 deg C on 19th July 2006 & 3rd August 1990 |
| Shawbury | 31.2 | 34.9 deg C on 3rd August 1990 |
| Sheffield | 35.6 | 35.6 deg C on 25th July 2019 |
| Bradford | 33.9 | 33.9 deg C on 25th July 2019 |
| Durham | 32.9 | 32.9 deg c on 25th July 2019 |
| Newton Rigg | 30.1 | 31.1 deg C on 2nd August 1990 |
| Eskdalemuir | 29.8 | 29.9 deg C on 28th June 2018 |
| Leuchars | 21.7 | 30.8 deg C on 2nd August 1990 |
| Braemar No 2 | 26.7 | 30.0 deg C on 28th June 2018 |
| Chivenor | 29.3 | 34.3 deg C on 3rd August 1990 |
| Camborne | 22.5 | 29.4 deg C on 3rd August 1990 |
| Hurn | 29.7 | 34.1 deg C on 4th August 1990 |
| Valley | 25.6 | 33.6 deg C on 19th July 2006 |
| Aberporth | 27.0 | 32.7 deg C on 19th July 2006 |
| Pershore | 34.2 | 34.9 deg C on 3rd August 1990 |
| Rothamsted | 36.6 | 36.6 deg C on 25th July 2019 |
| Stonyhurst | 32.0 | 32.6 deg C on 1st July 2015 |
via NOT A LOT OF PEOPLE KNOW THAT
August 19, 2019 at 12:27PM