By Paul Homewood
h/t Ian Cunningham
The latest bit of BBC climate propaganda, laughingly described as a "Reality Check"!
Recent heatwaves and wildfires around the world have caused alarm – with warnings that parts of Europe and North America could be experiencing the worst fire season ever.
So how do wildfires compare with previous years?
California hit hard
Parts of the western US have seen record-breaking temperatures this year, which – along with severe drought conditions – have triggered a series of major wildfires.
So far this year in California, more than twice as many acres of land have been burned by wildfires compared with the five-year average.
Turkey fires 'worst in its history'
The wildfires in Turkey have been labelled 'the worst in its history' by President Recep Tayyip Erdogan.
More than 200 have affected western and southern Turkey, although the authorities say the majority of these are now contained.
About 175,000 hectares have been burned so far this year, according to the European Forest Fire Information System.
That's more than eight times the average for this time of year – measured between 2008 and 2020.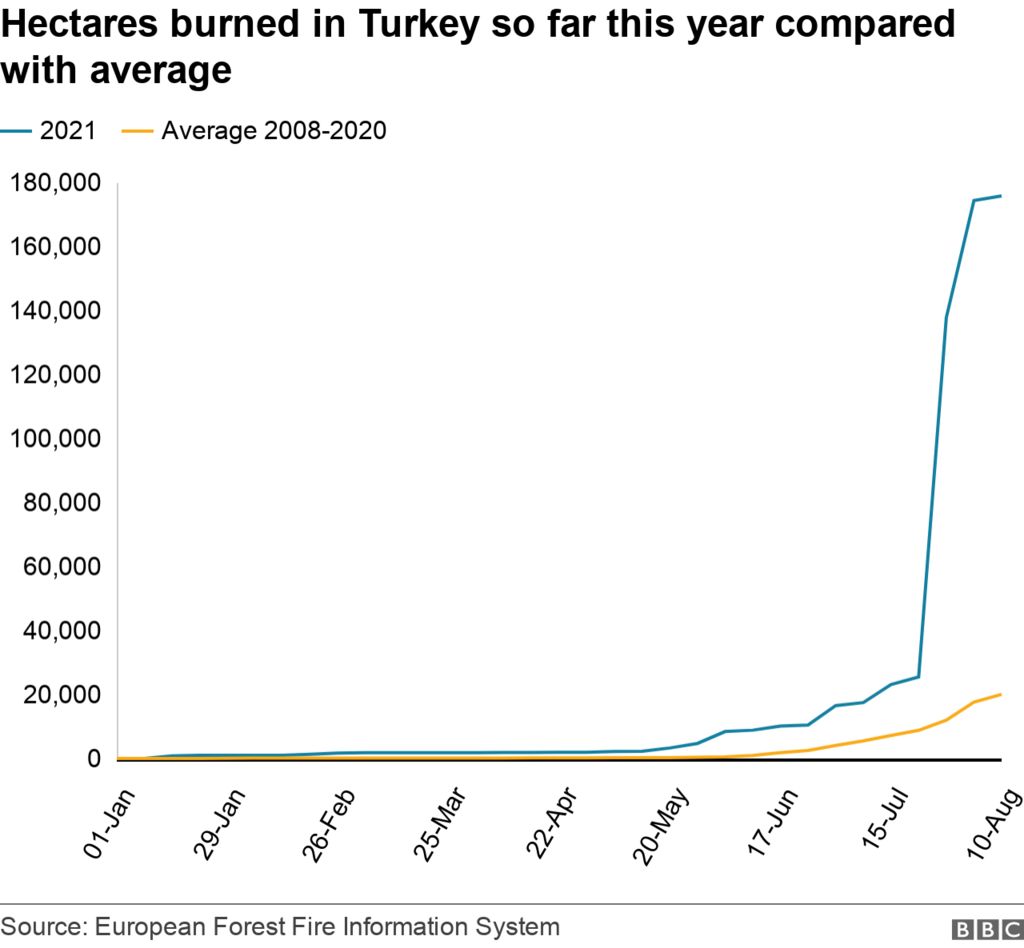 Dr Yusuf Serengil, from the Faculty of Forestry at the University of Istanbul, says: "It's a very bad year all over the Mediterranean region. We believe that this is caused by an above-average hot July in the region."
The Turkish authorities have been criticised for being caught off-guard by the recent fires, and not having enough planes to help tackle them.
They eventually received help from France, Spain and several other nations which provided air support.
Greece has also seen record-breaking wildfires – with 12 times as much land being burned than average.
Much of this destruction has been caused by wildfires on the Greek island of Evia, with more than 2,000 people being evacuated by sea.
There are also active wildfires in the Peloponnese region, in between the cities of Kalamata and Patras.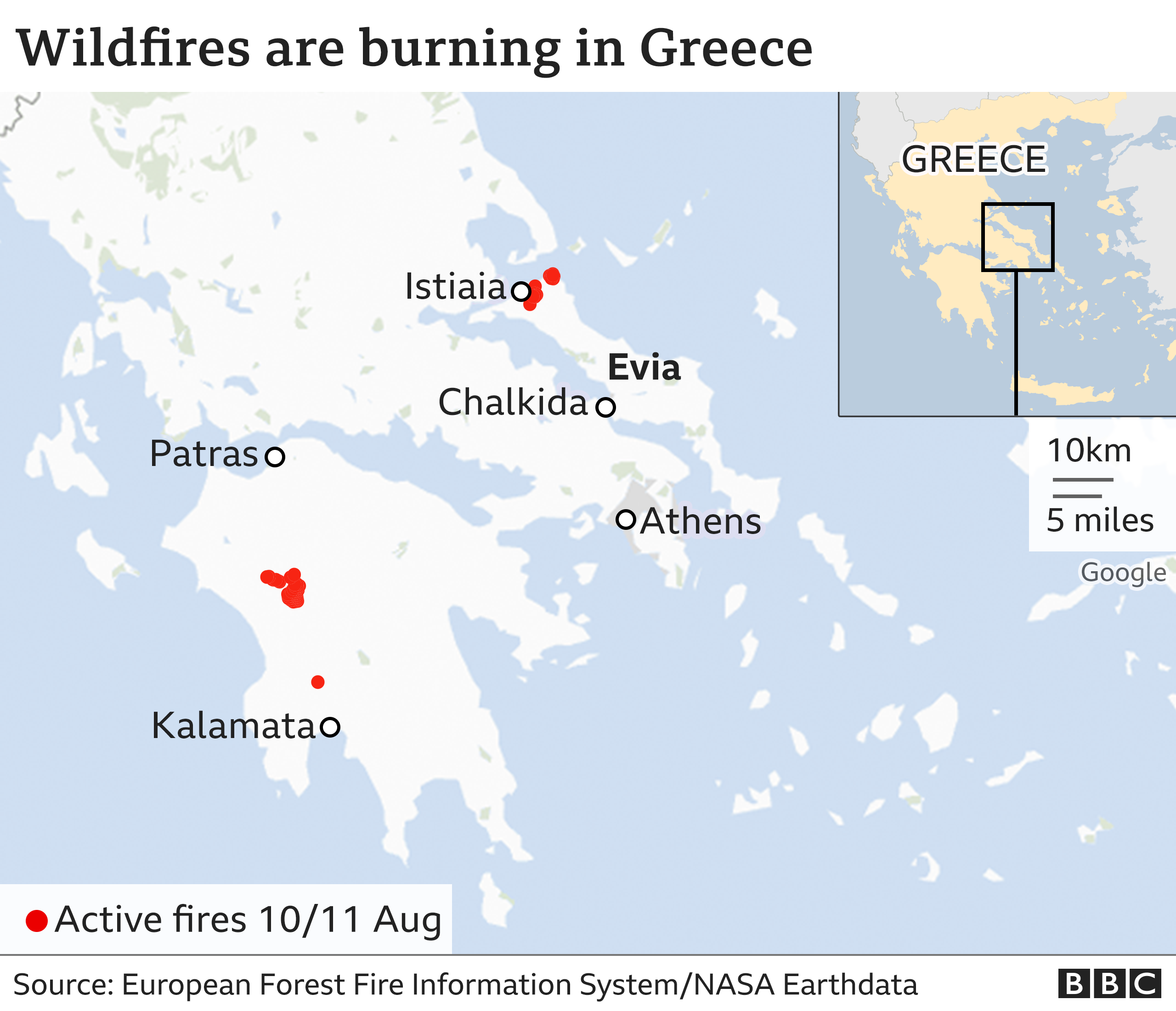 https://www.bbc.co.uk/news/58159451?app=news.reality_check.story.58159451.page
As far as the US is concerned, so far this year wildfire acreage is well below the 10-year average:
https://www.nifc.gov/fire-information/nfn
And 3 million or so acres is small fry compared to the wildfire pre war, before systematic fire suppression started:
http://web.archive.org/web/20150226035638/https://www.fs.fed.us/research/sustain/criteria-indicators/indicators/indicator-316.php 
But what about Greece and Turkey?
If the BBC had done a proper factcheck, they would have discovered that fires have been on a decreasing trend around the Mediterranean, including Greece, since 1985:
https://journals.plos.org/plosone/article?id=10.1371/journal.pone.0150663
And this may be connected, in Greece at least, by the fact that rainfall has increased there during the key months, August and September, as another study shows:
  https://link.springer.com/article/10.1007/s10113-013-0568-6
Studies have found that it is low precipitation and not high temperatures which correlate with wildfire area, unsurprising since Greek summers are always hot enough for fires to start:
https://www.climatechangepost.com/greece/forest-fires/
They also note that 190,836 hectares burnt in the terrible summer of 2007, equating to 469500 acres. So far this summer, about 200,000 acres have burned. We will have to wait see the final outcome, which is more than the BBC are willing to do.
The reality is that occasionally in Greece you get monster fire seasons, such as 1879, 1944 and 1998. Whilst drought plays its part, strong winds are also a factor.
This is the Reality that the BBC refuse to tell you!
via NOT A LOT OF PEOPLE KNOW THAT
August 12, 2021 at 12:55PM