.
.
The next year or two may give us a better idea of how solar cycle 25 is going to turn out, compared to other cycles.
Spaceweather.com
Oct. 21, 2021: Paolo Bardelli will never forget Oct. 21, 2001. "The sky over my hometown in Italy suddenly filled with intense red auroras," he recalls. "This happened exactly 20 years ago today."
A trip down memory lane: In 2001, Solar Cycle 23 was peaking and solar activity was very high. Strong flares were a daily occurance. On Oct. 19th, giant sunspot AR9661 erupted twice in quick succession, producing almost identical X1.6-class solar flares. The double blast hurled two bright CMEs toward Earth: CME #1, CME #2.
This is what the sun looked like that day: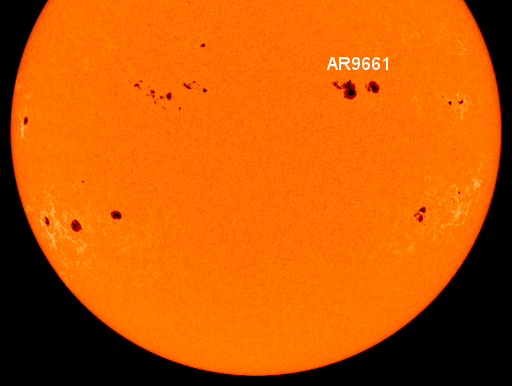 The first CME took only two days to reach Earth. It was fast and potent. The storm cloud's arrival on Oct. 21, 2001, ignited a severe geomagnetic storm (Kp=8). Solar wind speeds in the CME's wake…
View original post 212 more words
via Tallbloke's Talkshop
October 23, 2021 at 03:57AM