By Paul Homewood
h/t Ian Magness
In today's propaganda bulletin, the BBC has presented one of those mindbogglingly boring educational pieces about Glasgow, for people who apparently don't know that the city used to be full of slums and built ships:
I really would not bother reading it!
https://www.bbc.co.uk/news/extra/e8vkjmttbw/glasgow-scotland-the-last-best-hope-to-fight-climate-change
But Ian M has pulled out some of the gems:
The BBC points that where there used to be shipyards and docks there is now the auditorium where COP26 is to be held, an example of the vibrant city.
They appear to forget that we still happen to need ships to bring us all the goods and food we consume, and docks to unload them.
It then talks about the "greening of Glasgow":
At 107 Niddrie Road in the south of the city, one of the red sandstone-fronted tenements, so emblematic of Glasgow, is being ripped apart and put together again.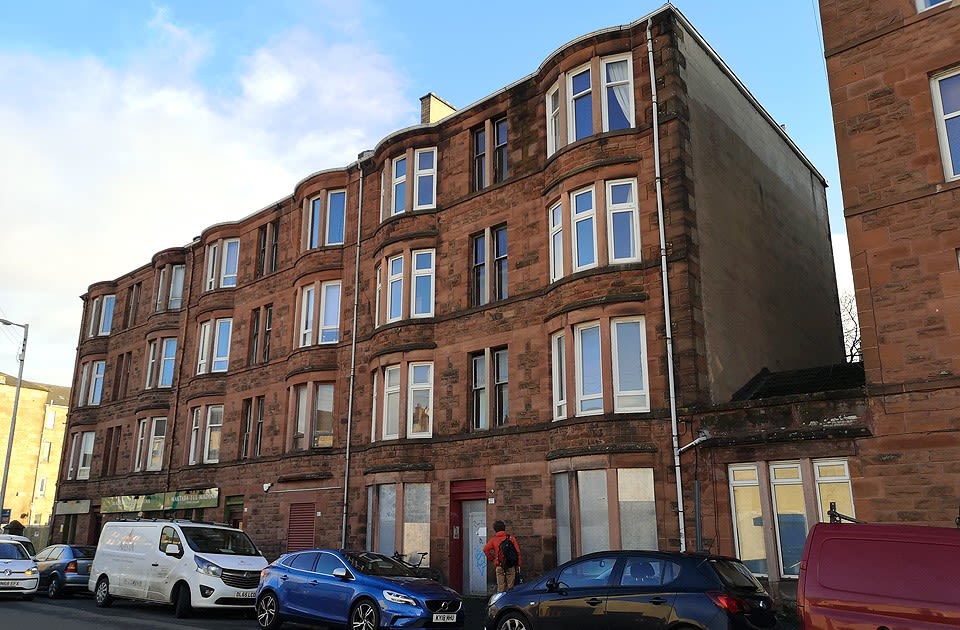 These traditional multi-occupancy homes, built over a century ago to cope with a burgeoning workforce, are a problem for a city trying to reduce its carbon footprint.
About a quarter of the city's housing stock was built before 1919. Bringing it up to modern insulation standards will be tough – but Niddrie Road is an experiment in how it might be done.
With all eight flats in the block vacant, Southside Housing Association is trying to reach the ambitious EnerPHit standard for retrofitting older properties.
"It's a massive balancing act of energy efficiency versus heritage," says Drew Carr of John Gilbert Architects.
When the tenants move back next year, monthly bills could be as low as £10 to £15.
The sandstone front is retained by stripping back the inside walls to the brickwork and fitting insulation internally. At the side and rear, the outside walls are clad with non-combustible mineral wool.
Making an old building airtight creates new problems with condensation and mould, so mechanical ventilation and moisture reduction are also part of the work.
Suitcase-sized units above the bathroom ceilings suck out warm moist air, extracting heat and using it to warm fresh air that is piped to the living spaces.
Heating is a mix of air source heat pumps and high efficiency gas boilers – but the flats are so well insulated little energy is required.
Cedar Court has been wrapped in mineral wool, the windows are triple glazed and – at the tenants' request – balconies are now enclosed to create "winter gardens". The predominant blue colour in thermal images shows very little heat is being lost.
Joanne Wong is among 1,300 residents who have benefitted from the project commissioned by Queen's Cross Housing Association.
"The biggest difference is that inside the flat it's now warm," she says.
Another tenant, George McGavigan, says: "To tell you the truth my heating's never on because everything's boxed in, everything's contained – and they've the got the ventilation system.
"You only need to open your windows to wash them."
These projects show what can be done – but at a price. The investment at Cedar Court worked out at more than £48,000 per flat, while unit costs for the tenement retrofit will be higher.
There are also practical difficulties in rolling out such measures to buildings that are a mix of owner occupiers and tenants. And perhaps the biggest question of all – who will pay?
Ah!! £48000 per flat, plus more for the block itself.
Who will pay, he asks. I suggest the fairies at the bottom of the garden!
Then its on to electric buses:
Less than a mile away from the Niddrie Road tenement project, the UK's biggest bus depot is being transformed into the country's biggest electric vehicle charging hub.
The Caledonia depot will eventually have capacity to charge 300 fully electric buses.
Glasgow's biggest bus operator, First, has 24 of them already and 150 are due to be in service by March 2023.
But it seems that the fairies are paying for this as well, as First explained a few months ago:
Phase One of the depot transformation is expected to be complete by September this year, allowing for the introduction of a further 22 electric buses to Glasgow's streets ahead of the COP26, the United Nations Climate Change conference.
This transformation is being supported by £35.6m in part funded by £28.2m from the Scottish Government's Scottish Ultra Low Bus Scheme (SULEB). 
https://www.firstgroupplc.com/news-and-media/latest-news/2021/07-06-21.aspx
But it's all worth it of course, because it will save the planet:
For Scotland, climate change means hotter, drier summers but with more sudden downpours. Winters will be milder and wetter with more frequent extreme weather events.
Three years ago the Glasgow Science Centre, one of the city's top visitor attractions, was "melting" as a record June temperature of 31.9C caused its waterproof membrane to drip down its sides.
This summer saw the warmest average temperatures in Glasgow since records began in 1884 – but for residents of the Drumchapel area it also saw flooding as downpours overwhelmed the drains.
In the coming decades, the city will have to invest millions in "resilience" simply to protect its buildings and infrastructure from conditions they were never designed for.
Some 45,000 homes and businesses in Glasgow already face some risk of flooding. The council believes that figure could rise to almost 60,000 by the 2080s.
Are Scottish summers getting hotter? The hottest summers were in 1976 and 1995: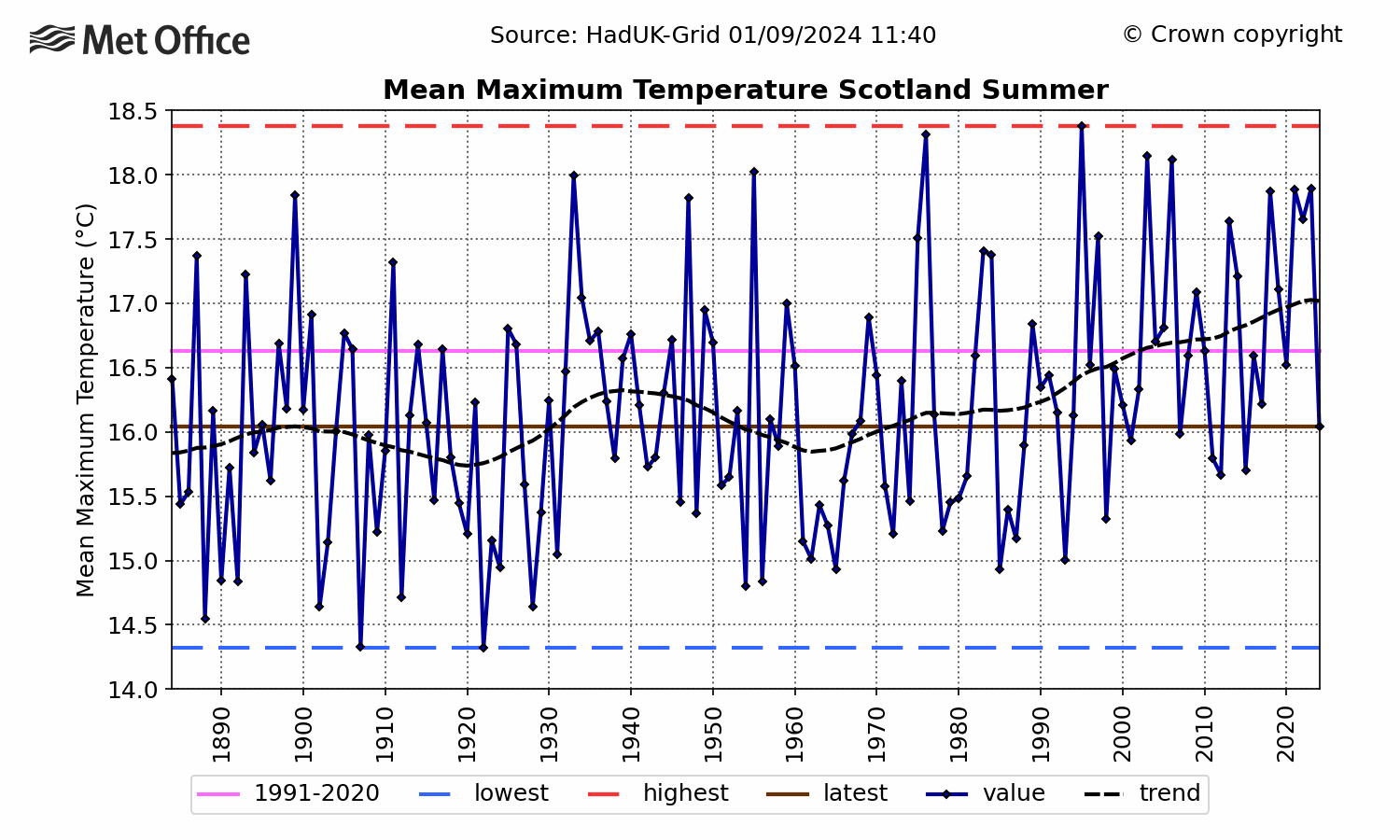 Are summer days getting hotter? No.
Are summers drier? Don't make me laugh: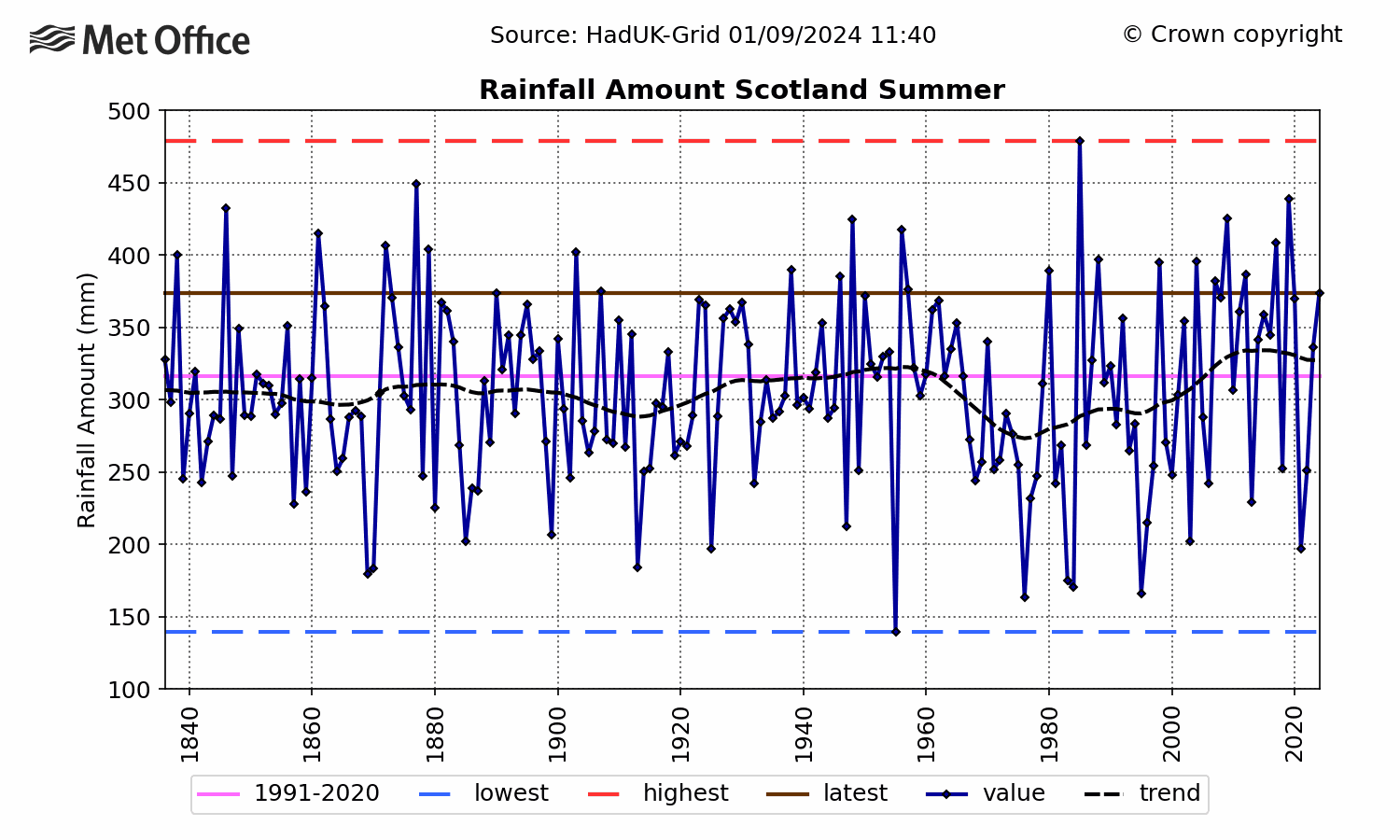 What about these summer downpours?
Milder winters? Recent winters are barely milder than the 1920s and 30s: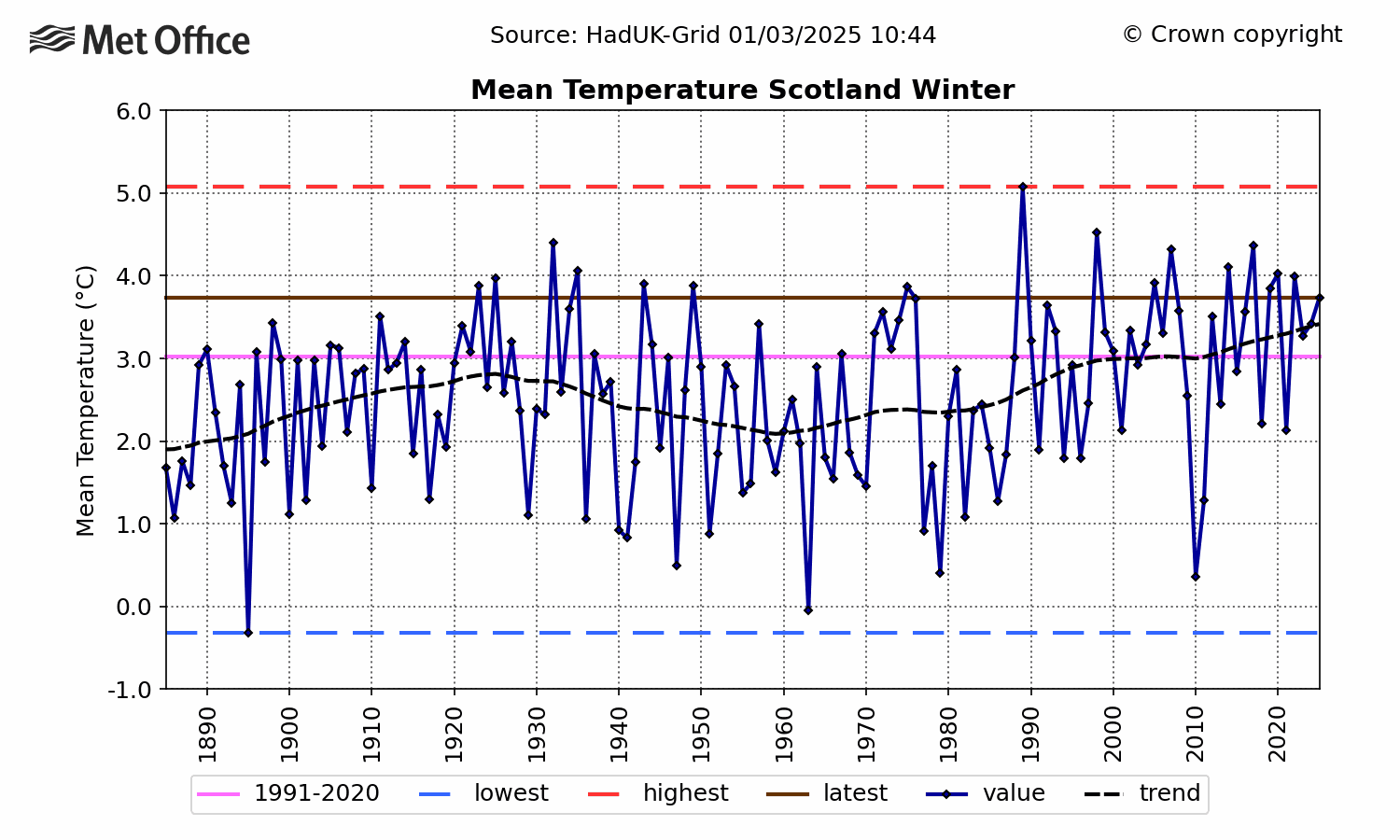 As usual, this is another load of economically and scientifically illiterate piece of drivel from the BBC. But they give the game away at the end:
Glasgow is not the only city to declare a climate emergency and target 2030 as a date for carbon neutrality, but it's a big ambition. Is it achievable?
Net zero carbon means that the amount of C02 produced is balanced by the amount being removed, for instance by tree planting or carbon capture.
But these were the "easy wins" largely driven by the decarbonisation of the electricity network as coal-fired power stations were shut and renewables came on stream.
Aside from a project to plant 22,000 trees, there's little detail yet on what other measures Glasgow could take to counterbalance the carbon emissions still remaining at the end of the decade.
What is certain is that the next stage in the journey toward carbon neutrality will require far greater upheaval and billions of pounds of investment.
The city's leaders are promising a "just transition", making sure the burden doesn't fall disproportionately on the poorest citizens.
Public money may be targeted at the least well-off, but governments have already made it clear the public purse can't pay for it all.
This once industrial city has a route map to a greener future – but whether it happens depends to a great extent on decisions taken at national and international level.
"One of the challenges we face in reaching net-zero carbon is the investment required, which is at a level never seen before in local government," says the council's sustainability and carbon reduction convener Anna Richardson.
And that of course is the rub. The transition to carbon neutrality is unaffordable, certainly more than the city itself could bear. It is a pity that Glasgow City Council did not think of that before they set their virtue signalling target.
via NOT A LOT OF PEOPLE KNOW THAT
October 29, 2021 at 12:39PM