By Paul Homewood
h/t Ian Magness
More climate lunacy from the National Trust.
As usual, the useless Emma Gatten simply trots it all out, without bothering to do any factchecking:
Autumn colours could be cut short as climate change causes leaves to turn and drop earlier and more quickly, the National Trust has said in its annual review of nature in the UK.
Climate change is "altering our landscapes forever", the Trust said, with the familiar red and gold of autumn leaves from September into December potentially one of the casualties.
This year, dry conditions from a warm September led to concerns that some trees would shed their leaves before Autumn arrived, the Trust said.
In the end, the extra September sunshine meant a "spectacular" array of reds in leaves when the Autumn colours finally arrived in October.
"Climate change could affect seasonal autumn colour in ways in which we are still to fully understand," said John Deakin, the head of trees and woodland at the National Trust. "But leaves could end up turning or dropping earlier with warmer temperatures and less rainfall. "An increase in storms at all times of year will also stress trees and leaves are likely to fall quickly in autumn."
https://www.telegraph.co.uk/environment/2021/12/27/autumn-colours-cut-short-climate-change-altering-landscapes/
Note that it is all "could" and "potentially"!
Despite their assertion that "Climate change is "altering our landscapes forever", there is no actual evidence offered to back this up. The nonsense about warmer, drier Septembers, for instance.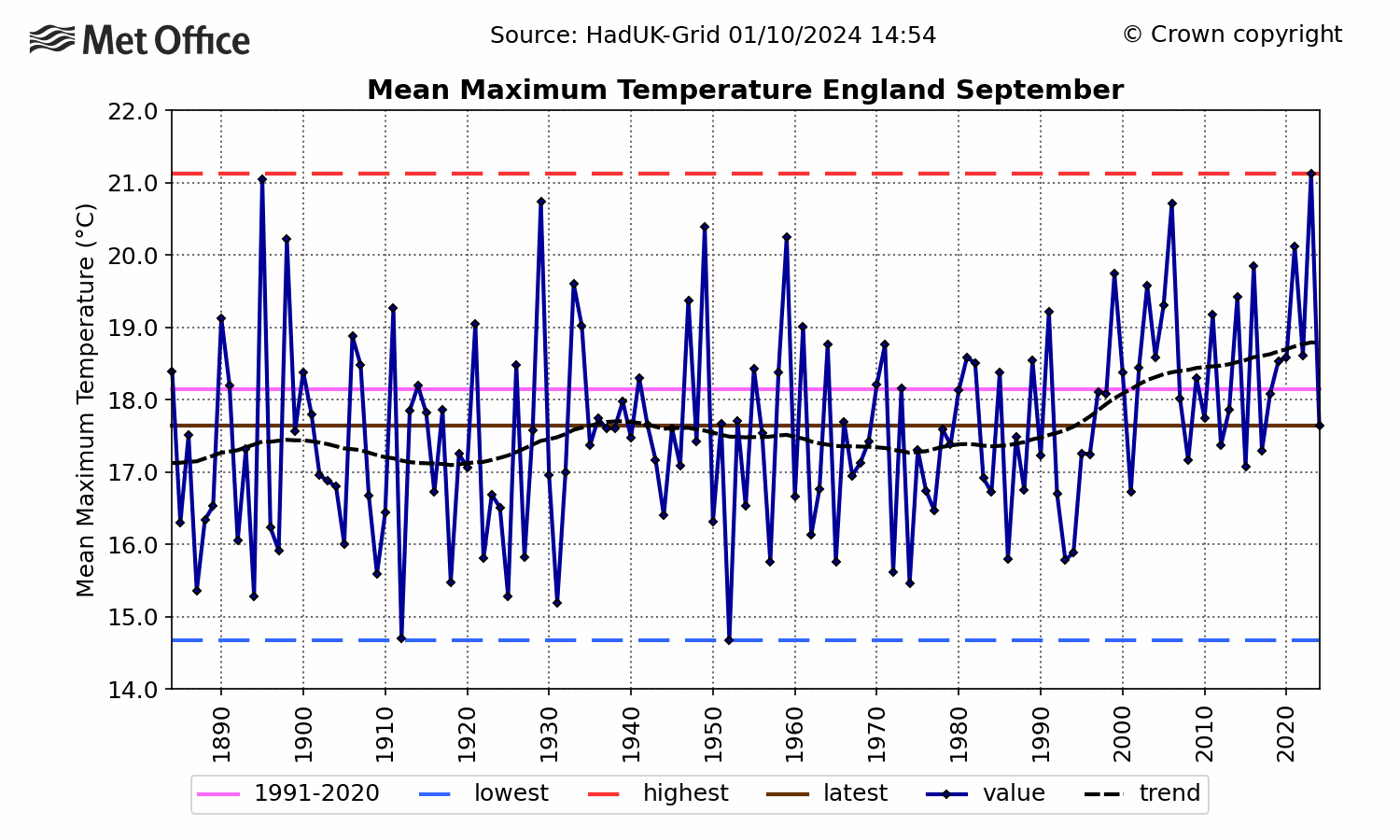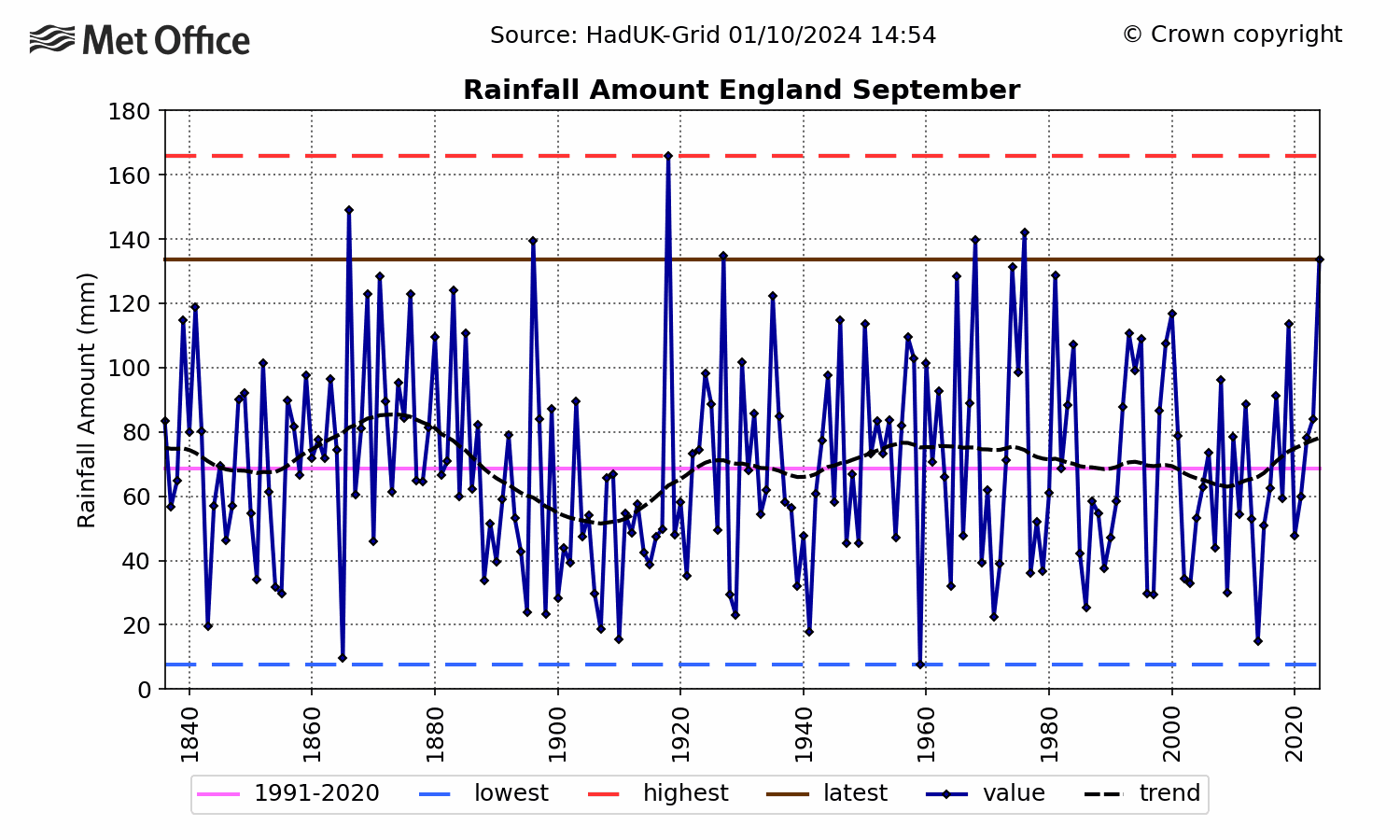 This being the National Trust, of course, they go on to make other unsupported claims about climate change:
"Climate change is making some forms of extreme weather events the new normal," said Ben McCarthy, head of nature conservation and restoration ecology. "Heatwaves and heavy rainfall are becoming more frequent and more intense.
"What we're seeing in the UK with the impacts of wildfires and severe storms such as Arwen and Barra, is how climate change is altering our landscapes forever."
The "topsy turvy year" experienced by the UK's terns in 2021 illustrated the impact of climate change on wildlife, the Trust said.
While Arctic tern numbers rebounded at Long Nanny in Northumberland thanks in part to restarting the 24-hour ranger surveillance of the nest sites to help ward off predators, 38 individual Little Terns which arrived in May were forced to abandon their site after high tides at the end of the month flooded the area they use for nesting .
"Terns are some of the UK's seabirds which literally live on the edge – not just in terms of their coastal habitats being squeezed by rising sea levels, but also at particular risk from human disturbance, predators and storm events at crunch times during the breeding season," Mr McCarthy said.
"We suspect the reason for the recent declines of certain species is down to cold weather and more frequent heavy rain falling in the summer at the vital incubation and early post-hatch stage. Predation could also be a factor. This trend could continue if we get more frequent heavy rain in the summer as a result of climate change."
Heatwaves and heavy rainfall are not becoming more frequent, and there is no evidence that storms are getting more severe, despite the fact they now have silly names.
Apparently, despite all of these heatwaves, cold weather is also on the increase in summer! But there again, maybe falling tern numbers are due to all of those predators!
Hey, we don't actually know, says Mr McCarthy, but let's blame it on climate change anyway!
via NOT A LOT OF PEOPLE KNOW THAT
December 28, 2021 at 05:00AM