By Paul Homewood
Justin Rowlatt has also been trumpeting the National Trust's latest extreme weather claims:
Wildlife across the UK is increasingly suffering the impacts of extreme weather events and natural disasters, says the National Trust as it publishes its annual reckoning of UK wildlife "winners and losers".
The conservation charity also warns some of the landscapes it cares for are being altered forever as climate change makes some forms of extreme weather the new normal.
It points to the very dry spring that saw wildfires devastate parts of National Trust estates in the Mourne Mountains in Northern Ireland and Marsden Moor in Yorkshire.
The fires destroyed habitats for a range of threatened species including golden plover and Irish hare.
Meanwhile our warmer, wetter winters have accelerated the spread of diseases such as ash dieback, causing significant loss of trees, the charity says.
This year's settled and warm autumn led to a spectacular show of colour but that was brought to an abrupt end when Storm Arwen ripped through the north of the country in November causing widespread destruction.
It uprooted thousands of trees on National Trust land in the Lake District and destroyed hundreds of irreplaceable trees and plants at its Bodnant Garden in Wales.
At Wallington in Northumberland, where gusts reached 98mph, more than half of the 250-year-old oak and beech trees were uprooted.
"These extreme events are putting even more pressure on Britain's wildlife", warns Ben McCarthy, head of nature conservation at the trust.
He says more than half of UK species are already in decline and 15% of wildlife species are under threat of extinction.
https://www.bbc.co.uk/news/science-environment-59757497
Let's examine his three claims:
Wildfires
Rainfall in spring as a whole was close to average this year in England. Moreover there are no long term trends either up or down, which makes a nonsense of Rowlatt's assertion that the fires were climate related, or that weather is getting more extreme.
Northern Ireland is similar.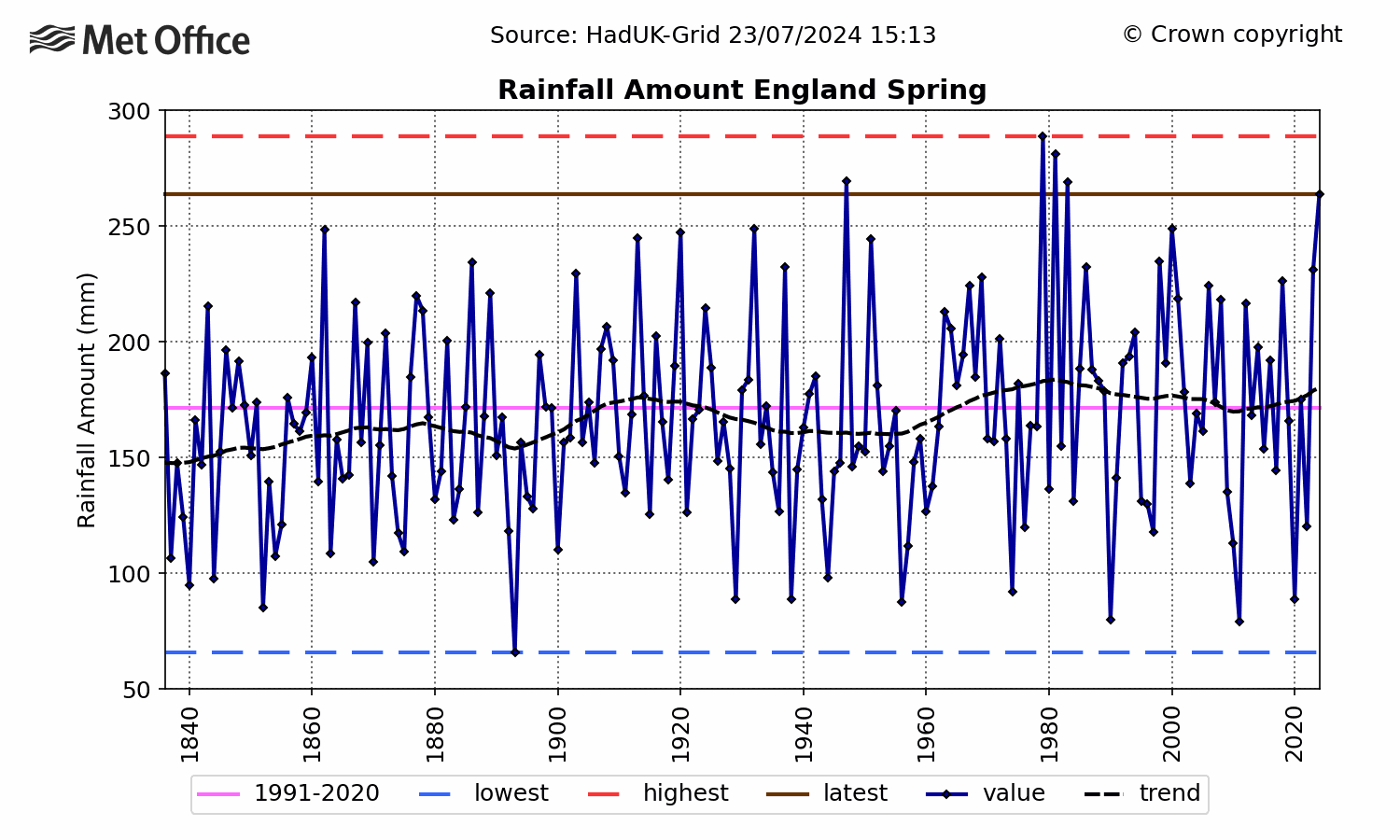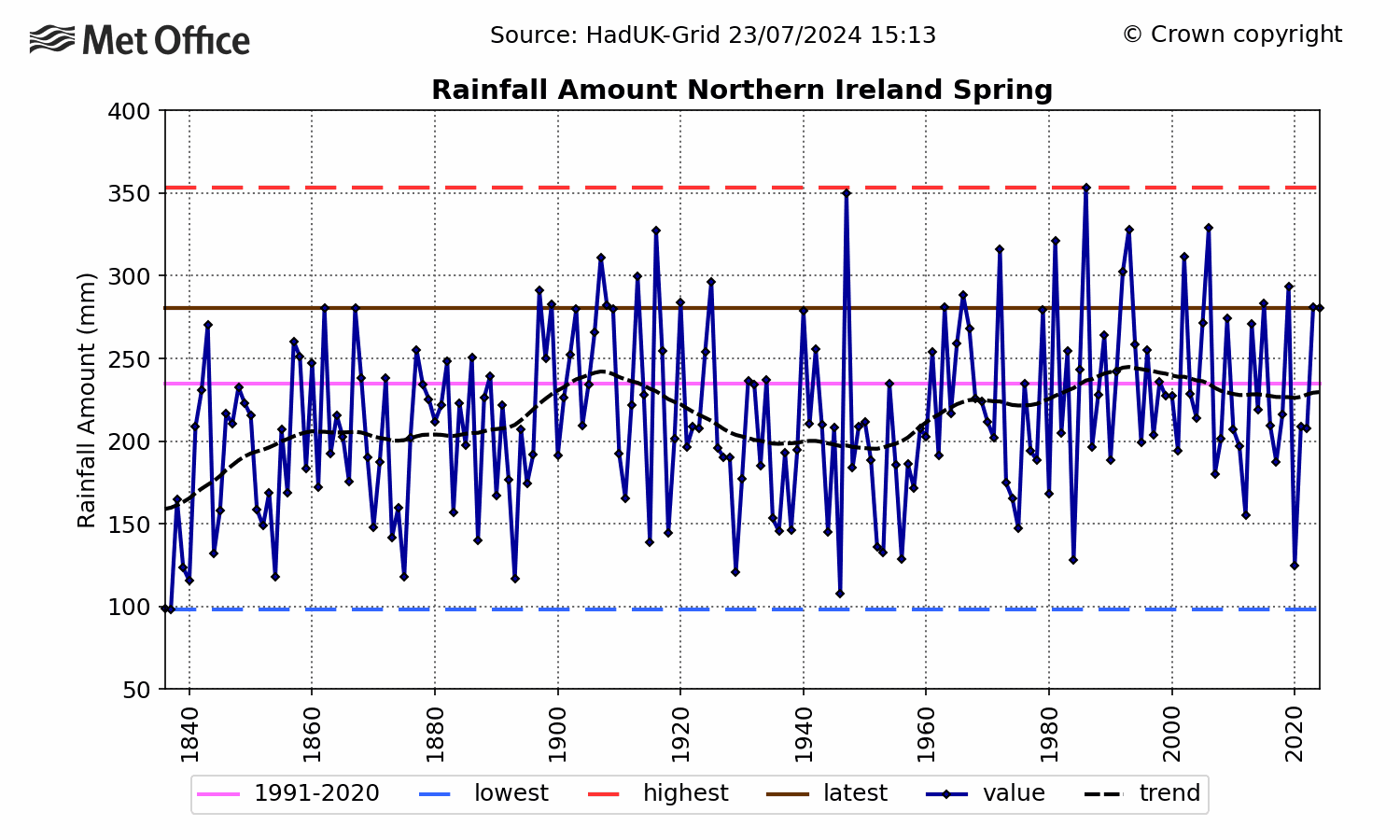 Ash Dieback
The claim that "warmer, wetter winters" are accelerating ash dieback is simply not true.
Ash dieback is a highly destructive disease of ash trees , especially the United Kingdom's native ash species, common ash. It is caused by a fungus named Hymenoscyphus fraxineus , which is of eastern Asian origin.
It has been spreading rapidly across Europe since its introduction there about 30 years ago. It has been present in the UK probably since about 2005. It was first spotted in East Anglia and Kent, and has been spreading north and west since.
Winter temperatures and rainfall have nothing to do with this spread at all, as the disease thrives in all climates, warm, cold, wet and dry.
Storms
Despite Rowlatt's implication that storms are getting more severe, the Met Office data shows the opposite.
https://rmets.onlinelibrary.wiley.com/doi/10.1002/joc.7285
We have known for a long time that the National Trust has been infiltrated by the far left, and every year we see climate propaganda like this published by them.
Justin Rowlatt clearly thinks it is his job to publicise this propaganda, without any need to check his facts first.
via NOT A LOT OF PEOPLE KNOW THAT
December 29, 2021 at 06:54AM