By Paul Homewood
What a disgusting little man:
https://anglican.ink/2022/06/09/climate-change-responsible-for-the-owo-massacre-in-nigeria-says-irish-president/
The massacre took place on Sunday, 5th June, and is believed to have left 40 dead.
ABC reported at the time:
Some of the gunmen who attacked a church full of worshippers in southwestern Nigeria on Sunday were disguised as congregants, police said.
Dozens of people, including women and children, were killed in the late-morning attack at St. Francis Catholic Church in the town of Owo in Ondo state, more than 200 miles northwest of Lagos, Nigeria's largest city, and over 200 miles southwest of Abuja, the Nigerian capital. The church was holding a service for Pentecost Sunday, a Christian holiday celebrated on the 50th day after Easter, when suddenly explosives detonated and gunshots rang out at around 11:30 a.m. local time, according to Olumuyiwa Adejobi, a spokesperson for the Nigeria Police Force's headquarters in Abuja.
"Further investigations revealed that some of the gunmen disguised as congregants, while other armed men who had positioned themselves around the church premises from different directions fired into the church," Adejobi said in a statement on Monday night.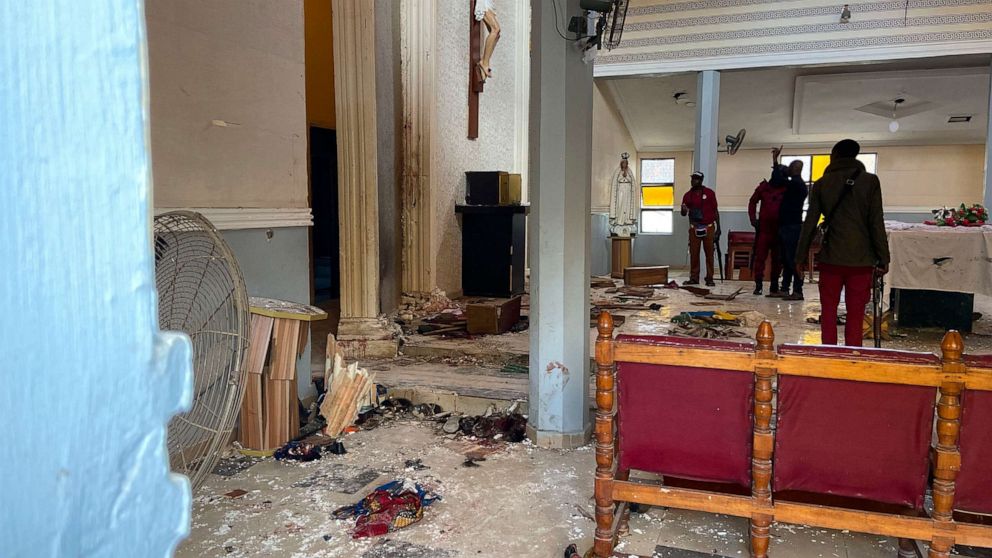 An unknown number of gunmen had approached the church during the service and began shooting at worshippers as they tried to flee, according to Funmilayo Ibukun Odunlami, a spokesperson for the Nigeria Police Force's command in Ondo state. About four other gunmen were inside the church open firing, Odunlami said.
https://abcnews.go.com/International/gunmen-disguised-congregants-carried-attack-catholic-church-nigeria/story?id=85231500
Investigations are still ongoing, but the killings bore all the hallmarks of other Boko Harem massacres. Nigerian security sources suspect an insurgent group, Islamic State West Africa Province (ISWAP) carried out the attack on Pentecost Sunday in which 87 people were also injured.
Higgins should be ashamed of himself for putting the murderers on a par with the victims.
Responding to the comments, the Bishop of Ondo, Jude Ayodeji Arogundade said: "To suggest or make a connection between victims of terror and consequences of climate change is not only misleading but also exactly rubbing salt to the injuries of all who have suffered terrorism in Nigeria.
"Alluding to some form of politics, of climate change in our situation is completely inappropriate.
"Such comments associating banditry, kidnapping and gruesome attacks on innocent and harmless citizens of Nigeria with issues concerning climate change and food securities are deflections from the truth."
Needless to say, Higgins' disgusting claims are totally false. Agricultural production continues to rise in leaps and bounds, both in Nigeria and the wider region, life expectancy has doubled since the 1950s and extreme poverty is on the decline:
https://www.fao.org/faostat/en/#compare
https://ourworldindata.org/extreme-poverty
Surely Higgins should be celebrating this success, not trying to make political capital out of a terrorist massacre.
via NOT A LOT OF PEOPLE KNOW THAT
June 19, 2022 at 05:10AM