Australia has added more unreliable wind and solar than anywhere on Earth but when an energy crisis strikes, and those prices are still on fire, the solution is more of the same.
Senator Matt Canavan, The Australian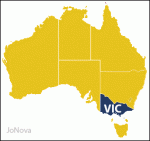 Perhaps Australia's broken electricity system is due to this mad rush towards renewable energy? No, according to our energy regulator, "Recent international events and Australian market events have further strengthened the case for the shift to renewables."
The renewable energy investments must continue until morale improves.
[The energy regulator's] recent analysis shows that Victoria could experience a "renewable drought" of 1 terawatt hour of electricity over just one week in the future.
How much is 1TWh? Well, the South Australian big battery can produce 130 megawatt hours, so we would need more than 7500 of these to keep the Victorian lights on. At about $100m a pop, that is a total cost of more than $700bn, or more than Victoria's total annual economic output.
This winter's energy shortfalls came just after the Liddell coal-fired power station in NSW's Hunter Valley shut a 400MW unit in April. Its other three units (a total of 1200MW) will shut next April. Then, in 2025, Australia's largest coal-fired power station, Eraring, also in the Hunter, is due to shut.
By the end of the decade, our energy regulators warn, almost two-thirds of our coal-fired power could shut.
And Victoria is just one state.
Indeed, across the world there are 345 new coal-fired power stations being built. What is the argument against Australia building just a few to guarantee our energy supplies?
A new ultra-supercritical coal-fired power station built in Australia would increase our emissions by about five million tonnes a year. That would mean global emissions would go up by 0.014 per cent. The world has warmed around 1C after 600 billion tonnes of emissions. So this new coal-fired power station may increase the temperature by 0.0001 of a degree over its life.
Yet we are told a new coal-fired power station would worsen climate change and create more bushfires, floods and all manner of other natural disasters. These arguments are nonsensical yet go unchallenged in polite society.
Matt Canavan is a Liberal National Party senator for Queensland and deputy leader of the Nationals in the Senate.
0 out of 10 based on 0 rating
via JoNova
July 12, 2022 at 02:06PM