By Paul Homewood
Climate Realism debunks the latest scare story:
The media is abuzz this week with stories related to the first-ever cancellation of Alaska's Snow Crab season for 2022. Media outlets like Bloomberg are wrongly attributing the decline in snow crabs to climate change, citing nothing more than opinions offered by favored experts. This is false. The evidence indicates other factors have led to a steep decline in snow crab populations.
In a Bloomberg article, titled, "Alaska's Snow Crab Collapse Is Likely Tied to Climate Change," writer Zahra Hirji claims:
Alaskan officials recently canceled the Bering Sea snow crab season for the first time ever after scientists discovered an unprecedented decline in crab numbers. Climate change is the number one suspect in the dropoff. (emphasis mine).
"We're still trying to figure it out, but certainly there's very clear signs of the role of climate change in the collapse," said Michael Litzow, shellfish assessment program manager at the National Oceanic and Atmospheric Administration (NOAA), which runs an annual survey of Bering Sea snow crab numbers. (Snow crabs are also found in the Beaufort and Chukchi seas off Alaska.)
…………….
Crab population crashes have happened before, well before climate change became a cause du jour in the media. Note this graphic from the National Oceanic and Atmospheric Administration showing Bering Sea crab populations back to 1980 (Figure 2, below).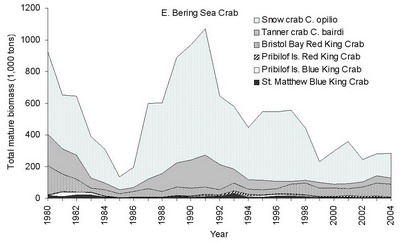 According to the data in Figure 2, in 1985, the Bering Sea crab population crashed.
What happened then? The 1984–1985 La Niña event.
The evidence clearly demonstrates that the current large crash of the Bering Sea crab population is due to combination of overfishing and the largest La Niña event in a decade. One doesn't have to be a scientist to understand this.
Full story here.
via NOT A LOT OF PEOPLE KNOW THAT
October 19, 2022 at 04:12AM