.
The approach to solar max is underway.
Spaceweather.com
Dec. 30, 2022: Cosmic rays reaching Earth just hit a six-year low. Neutron counters in Oulu, Finland, registered the sudden decrease on Dec. 26th when a coronal mass ejection (CME) hit Earth's magnetic field: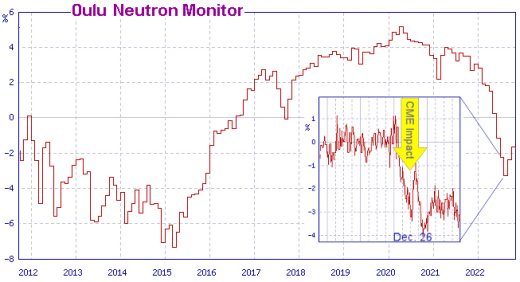 The CME swept aside galactic cosmic rays near our planet, abruptly reducing radiation levels. Researchers call this a "Forbush Decrease," after American physicist Scott Forbush, who studied cosmic rays in the early 20th century.
The Dec. 26th event continues a trend that began in 2020. Since then, cosmic ray fluxes have been fitfully decreasing as one CME after another hit Earth. The reason is Solar Cycle 25, which began around that time and has been gaining strength. The Forbush Decreases are adding up.
Scott Forbush was the first to notice the yin-yang relationship between solar activity and cosmic rays. When one goes up, the other goes down. CMEs play a big role in this relationship…
View original post 204 more words
via Tallbloke's Talkshop
January 1, 2023 at 02:39AM