Tyler Durden reports at Zerohedge Massive Hedge Fund, Also Known As Swiss National Bank, Suffers Colossal $143 Billion Loss In 2022.  Excerpts in italics with my bolds.
The last time we looked at the massive money-printing (literally) hedge fund that also moonlights as the Swiss National Bank, we were stunned to learn that its US equity holdings had exploded to a record $177 billion at the end of Q1 2022, orders of magnitude more than the mere $27 billion it held as recently as 2014.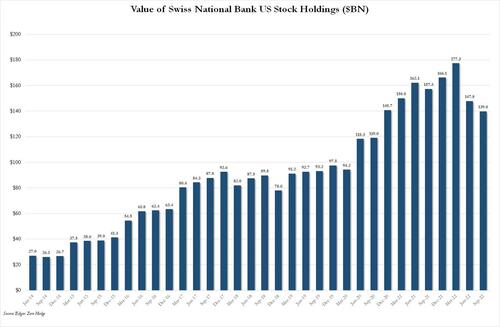 But while we wait for the SNB's year-end 13F which should be published in about a month's time, we already know the damage suffered by the Swiss hedge fund in 2021 and it is staggering: on Monday, the SNB reported an annual loss of 132 billion Swiss francs, or $143 billion, for fiscal 2022, the biggest loss in its 115-year history as falling stock and fixed-income markets hit the value of its share and bond portfolio. The recent drop in the US Dollar also did not help.
Monday's provisional figure, which marked a reverse from a 26 billion franc profit in 2021, was far bigger than the previous record loss of 23 billion francs chalked up in 2015, and according to Reuters, it is equivalent to slightly more than the annual GDP of Morocco.
According to the bank, the bulk of the loss, or 131 billion francs, was from its foreign currency positions – a broad term used to describe the more than 800 billion francs in stocks and bonds the SNB bought during a long campaign to weaken the Swiss franc. Indicatively, the amount is also almost precisely the same as the GDP of Switzerland.
The losses accelerated as global stock and bond markets tumbled in unison – 2022 was the first year in over a century when both stock and bond market suffered double digit losses – as central banks around the world, including the SNB, hiked interest rates to combat inflation. Meanwhile, the strong Swiss franc – which rose above parity against the euro in July – also led to exchange rate-related losses.
And while the SNB lost money in pretty much everything there was one solitary asset class that generated a profit (take a wild guess which one): that's right, the SNB's gold holdings which stood at 1,040 tonnes at the end of 2021, gained 400 million francs in value during 2022.
The 2022 loss meant the central bank will not make its usual payout
to the Swiss central and regional governments, it said.
Last year the SNB paid out 6 billion francs. In fact, if the SNB followed similar accounting rules and logic as any other bank, it would have been wiped out with a loss that obliterated all of its equity capital. But in the magical world of seigniorage, where central banks are assumed to be able to print – again, literally – their way out of everything, the bank never loses and the SNB will continue its merry existence as if nothing happened.
Still, the loss is unlikely to have an impact on SNB policy. It hiked interest rates three times in 2022 as Chairman Thomas Jordan moved to stem high Swiss inflation, analysts said.
"The SNB's colossal losses will not change its monetary policy at all," said Karsten Junius, an economist at J.Safra Sarasin. "The high reputation of the SNB helps that it doesn't have to change anything."
Well, it may have a record loss that's bigger than the GDP of most medium-sized countries, but at least it has its "high reputation" earned courtesy of years of laborious and exhausting… money printing.
And yes, because we live in a kangaroo world in which there are never any adverse consequences for colossal central bank stupidity, the SNB's monetary policy will most certainly not change at all.
via Science Matters
January 10, 2023 at 09:23AM