By Jo Nova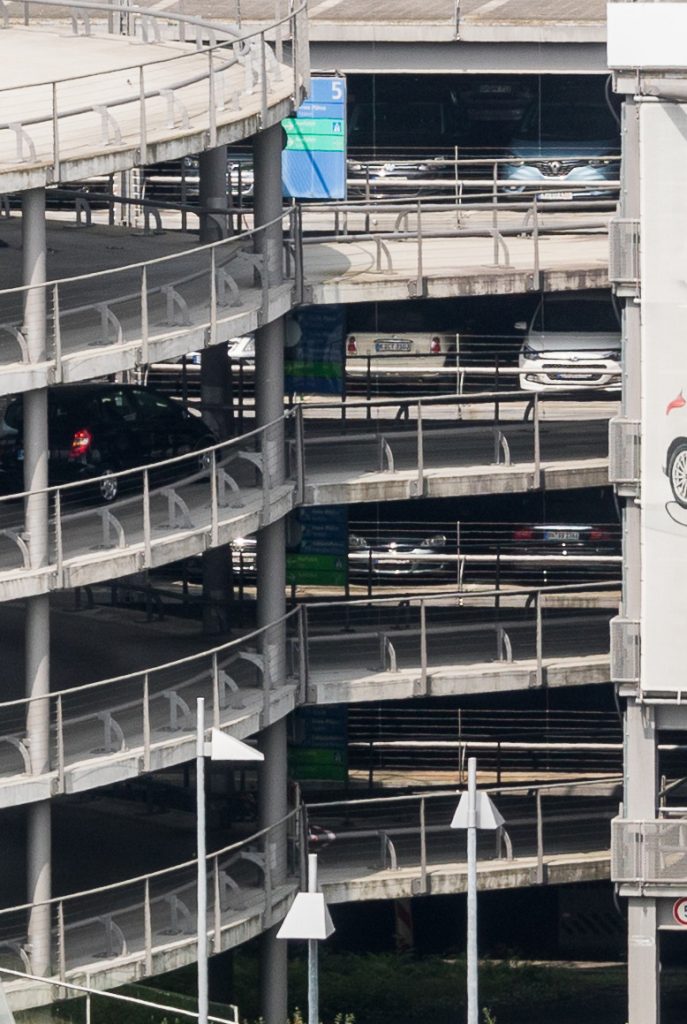 Just another catch on the road to Green Heaven.  EV's are heavier than petrol cars.
Where a full tank of gas or fuel is 70kg, a full tank of battery (or an empty one) weighs half a ton, or in the Tesla Model Y league — 771kg. That's more than a whole Toyota Corolla weighed in 1967 (just 690kg). Now a Tesla Model X weighs 2,500kg and some of the newer EV's weigh 4,000 kg.
That poses a problem for many structures that were designed with normal cars in mind. The odd EV is fine, but if the whole national fleet starts to become electric, suddenly loads on 50 year old bridges and shopping centre carparks are beyond the expected bounds. The infrastructure may have been designed when a normal car was just a 1970's corolla.
In the UK, as many as 1 in 20 bridges may be too weak to handle the load. Perhaps it's lucky then that there aren't enough minerals in the world to make all those EV's. If it takes us 200 years to dig up the copper required, that may give us time to rebuild the carparks and bridges.
Given the higher wear and tear from EV's obviously their registration costs and licensing and some tax on charging should be more expensive than lighter normal fuel cars. Someone has to pay for the road damage and rebuilds.
A heavier "fuel tank" needs a heavier chassis to hold it. And a heavier car means heavier buildings and bridges for it to drive on, and all that means more concrete and steel and more emissions.
Telegraph, UK
Councils receive notice that EVs are 33 per cent heavier than petrol vehicles – and 1 in 20 bridges are 'substandard'
By Christopher Hope, and Jack Simpson,
Councils should check the weight limits on bridges to ensure they don't collapse with heavier electric cars travelling across them, ministers have suggested.
Analysis by the RAC Foundation earlier this year, found that one in 20 bridges across the country were deemed to be substandard. While one in 24 could not carry the heaviest vehicle on the roads, mainly lorries.
33 per cent heavier
[Tory MP Greg Knight] said: "Electric vehicles can be up to 33 per cent heavier than the equivalent petrol propelled vehicle and it is important that those, who ensure our roads and bridges are safe, factor them into account.
Last month, car park experts raised concerns about the ability of some ageing car parks ability to handle the weight as the number of electric vehicles grew.
Russell Simmons, chair of the British Parking Association's structures group, told The Telegraph that he had carried out inspections of multi-storey car parks in the UK over the last six months which would not have been able to withstand new EV weights.
Earlier this year, Jennifer Homendy, the chair of the US National Transportation SafetyBoard, found that the best-selling EVs in the US were on average 33 per cent heavier than petrol counterparts. The difference will likely be similar for vans and heavy goods vehicles (HGVs).
A car park did collapse in New York on April 19th, though no one claimed to know why at the time.
Older car parks could collapse under electric vehicle weight
Multi-level car parks could face serious risk of structural failure and collapse due to the increasing weight of electric vehicles (EVs).
Alborz Fallah, Car Expert
The average EV weighs significantly more than traditional petrol or diesel cars, largely due to their battery systems. As an example the top-spec Tesla Model X has a kerb weight of 2467kg, which means its Gross Vehicle Weight Rating (GVWR) of 3069kg would far exceed most expectations of weight requirements in the past.
Other models that may eventually find their way to Australia such as the GMC Hummer EV weigh over 4000kg, which makes its GVWR an incredible 4800kg. The battery pack alone weighs over 1300kg, about the weight of a small car equipped with an internal-combustion engine.
Sales of electric cars across Australia nearly doubled in 2022 to 33,410 vehicles, equal to about 3.0 per cent of the total new vehicle market
As an example, here are some of the major shopping centres in Australia and their ages:
10 out of 10 based on 1 rating
via JoNova
May 9, 2023 at 01:12PM