By Paul Homewood
 You will probably remember this report from the BBC a couple of years ago, which claimed how sport was being wiped out by climate change.
In particular, rain was apparently wreaking havoc with English cricket.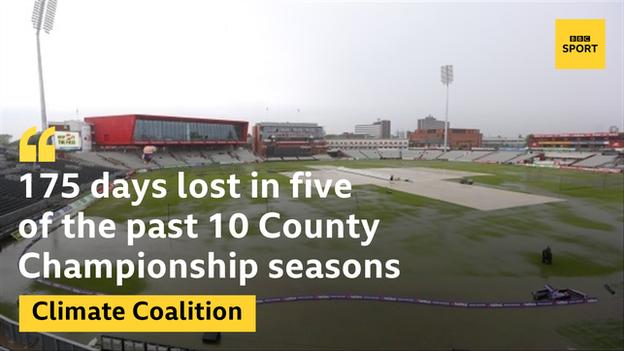 According to the Climate Coalition report, cricket will be "hardest hit" by climate change out of all the major pitch sports, with more rain resulting in more delays and abandonments.
Cardiff-based club Glamorgan have lost 1,300 hours of cricket since 2000 as a result of extreme weather and rainfall.
"Losing so much cricket is a county's worst nightmare – it affects the club at every level," said Glamorgan head of operations Dan Cherry. "It's difficult even for first-class counties to be commercially viable with such an impact.
"T20 Blast is a great way to get new people through the gates and into cricket – but they won't come back if this keeps happening and it's damaged the club to the tune of £1m."
More than a quarter (27%) of England's home one-day international since 2000 have seen reduced overs because of rain disruptions, while the rate of rain-affected matches has more than doubled since 2011.
The England and Wales Cricket Board (ECB) spent £1m in emergency grants in 2016 and £1.6m in 2017 to support clubs and restore their facilities and have set aside £2.5m a year for small grants to help club sides keep matches on.
There is the risk that increasingly disrupted cricket will lead to people no longer getting involved in the sport. According to the report, nearly 40,000 fewer people played cricket in 2015-16 than in 2005-06, a fall of almost 20%.
"There is clear evidence that climate change has had a huge impact on the game in the form of general wet weather and extreme weather events," said ECB national participation manager Dan Musson.
https://www.bbc.co.uk/sport/42936199 
As I pointed out at the time, the cranks at the Climate Coalition had not bothered to count up how many days used to be lost to rain in the old days, so we had no way of telling whether things were actually getting worse or not.
Fortunately we now have the climate tool from ECA&D to shed some light on the matter.
Oxford is without doubt the best weather station we have, to give a good summary of weather trends at the majority of English cricket grounds. Although Oxfordshire is not a first class county, it is surrounded by a large number of county teams, with similar climate. To the west there is Gloucestershire and Worcestershire, to the north Warwickshire, to the east we have Northants and Leicestershire, and the south Hampshire.
It is also not far from counties like Middlesex and Surrey.
We can use ECA&D to chart rainfall data for the six "summer months", April through September.
First total rainfall, which shows a declining trend if anything. Obviously 2012 stands out as exceptional, and I suspect the reports findings are skewed by this one summer.
However there has been no other summer since 2000, which has been in any way unusual or extreme.
If we look at rain days, we find that we actually tend to get more dry days now than in the past.
Average rainfall per rain day varies little, showing the claim of extreme rainfall to be an outright lie.
And finally, the number of heavy rainfall days, the sort which would see a whole day's play lost, has also been at low levels since that summer of 2012.
https://www.ecad.eu/indicesextremes/customquerytimeseriesplots.php
In short, rainfall is not becoming more extreme at English cricket grounds, certainly not in the southern half of the country. And there are no trends in the number of rain days or the amount of rain in the last century, which could possibly justify the Climate Coalition claim that English cricket is losing more days to rain.
 Yet another climate scare report which can be consigned to the garbage can!
via NOT A LOT OF PEOPLE KNOW THAT
December 26, 2020 at 10:30AM