By Paul Homewood
I am not sure why they are worried about sea level rise in Wiltshire!
Global warming could lead to many areas in the South West of England being consumed by the sea before 2050, according to a climate change study.
Climate Change Central is an independent organisation of scientists and journalists who have researched the change in our climate and the drastic impact it could have.
The organisation has developed an interactive map using current projections to show which areas could be lost to rising sea levels by 2050.
It should be noted the data is only a projection and the consequences of rising sea levels will be less severe if global temperatures are kept below one degree Celsius, claims the group.
The map shows that places such as Weston-Super Mere, Bridgewater and Burnham-on-Sea would be underwater if current trends persist.
Moreover, parts of Bristol including the Temple Meads area of the city would be consumed by rising sea levels.
Moving slightly north, Gloucester would be another city that would be affected.
The cathedral that attracts hundreds of tourists would be lost.
https://www.wiltshiretimes.co.uk/news/20072415.areas-south-west-england-water-2050/
It is the usual fraud from Climate Change Central, who regularly send this nonsense around the media.
The locations mentioned in Somerset, such as Bridgewater and Burnham, are about 6 to 8 meters above sea level. Gloucester Cathedral is 22m above. The idea that sea levels will rise this much in less than 30 years is preposterous, even under the most extreme projections.
In the South West, seas have been steadily rising at 1.84mm a year since 1915, with no sign of acceleration – about 7 inches a century: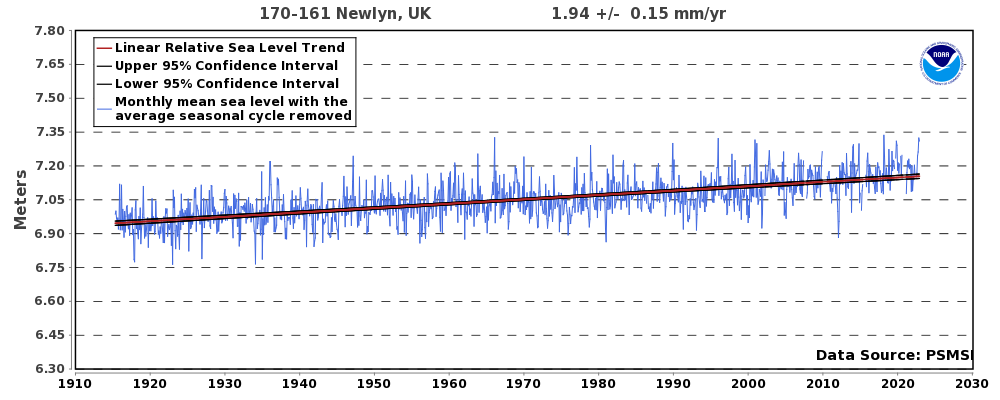 https://www.tidesandcurrents.noaa.gov/sltrends/sltrends_station.shtml?id=170-161 
According to NOAA, the most extreme projection is for about one foot of sea level rise by mid century. Climate Change Central claim their projections are based on "moderate" emission cuts, which would equate to about 3 feet of rise by the end of the century. But, of course, neither of these projections bears any resemblance to what sea levels are actually doing.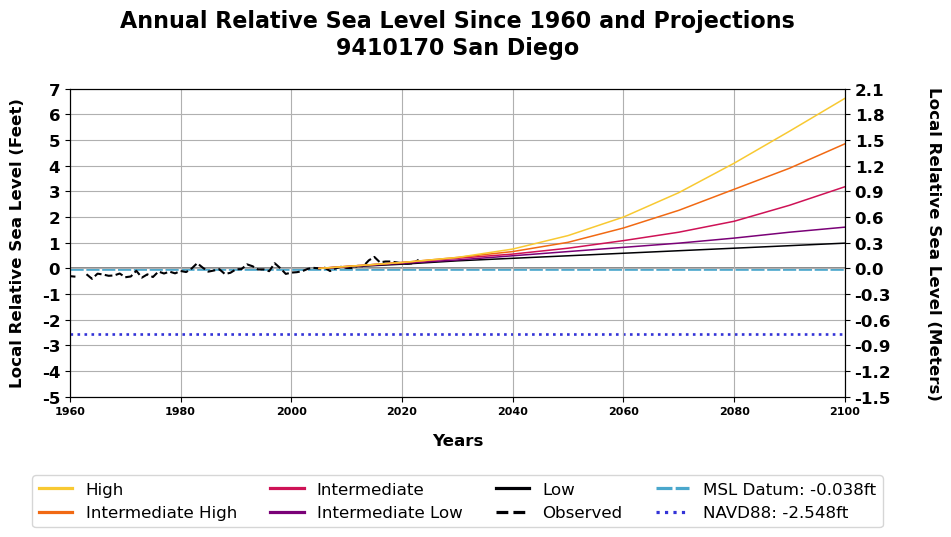 https://www.tidesandcurrents.noaa.gov/sltrends/sltrends_station.shtml?id=9410170
The whole thing is simply an attempt to scare the public into accepting wholesale changes to their lifestyles, as Climate Change Central admit:
https://coastal.climatecentral.org/map/11/-2.372/50.6904/?theme=sea_level_rise&map_type=coastal_dem_comparison&basemap=roadmap&contiguous=true&elevation_model=best_available&forecast_year=2050&pathway=rcp45&percentile=p50&refresh=true&return_level=return_level_1&rl_model=gtsr&slr_model=kopp_2014
via NOT A LOT OF PEOPLE KNOW THAT
April 21, 2022 at 05:45AM